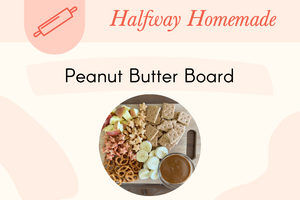 Peanut butter boards: a deliciously nutty idea that keeps the littles entertained (and full!) during holiday get togethers. An easy addition to the kids' table, and yummy for adults, too!
Ingredients:
1 cup - Peanut butter (we used smooth)
1/2 cup - Pretzels
1 cup - MightyMe Puffs (we used half Strawberry + half Banana)
1/2 cup - Fresh bananas 
1/2 cup - Fresh apples
1/2 cup - Graham crackers
Directions:
1. Measure all ingredients
2. Assemble on a cutting board (or plate)
3. Enjoy!
Looking for more yummy inspiration? Check out our other delicious recipes below.