Proactive Peanut
Butter Puffs
Proactive Peanut Butter Puffs
Our organic peanut butter puffs make early nut introduction easy and enjoyable, just as it should be (bonus: it's also a delicious and nutritious snack for the whole family!). Snack smarter with this pantry staple designed to age up and keep nuts in little diets for babies, big kids and beyond – with less stress and mess.
Simple, Organic, Non-GMO Ingredients
Peanuts, rice and a pinch of sea salt – that's it. Our all-natural ingredients are sourced in the USA, and our products are made in an FDA-certified facility.
You won't find cane sugar, cane syrup, palm oil, preservatives or anything artificial in our products.
Every ingredient is certified kosher and our production facilities are certified by the Union of Orthodox Jewish Congregations of America ("Orthodox Union") to pack kosher dairy and pareve products under kosher supervision.
So delicious, you'll be hearing "more puffs, please" on repeat.
How to Serve: Early, Often, Ongoing
For babies starting solids and up, our versatile, quick-dissolve puffs can be softened with water, breast milk or formula (recommended for 7 months and younger), crumbled into purees or eaten on-the-go.
The possibilities for incorporating our puffs in little diets are endless: add to oatmeal, smoothies, granola bars and more.
Science-Backed Snack
Our co-founder led the groundbreaking research behind the latest pediatric feeding recommendations, which found most peanut allergies can be prevented by starting peanut foods early and eating them often (consistency until age 5 is key).
1 pouch of MightyMe Peanut Butter Puffs per week = AAP recommended 6 grams peanut protein weekly for high-risk infants.*
We turned peanuts into
puffs!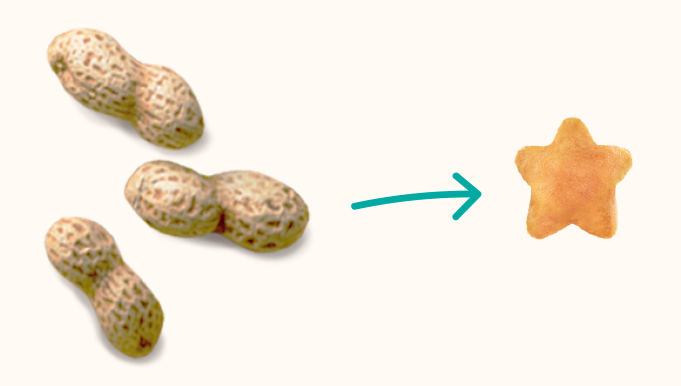 Organic & Non-GMO

Simple Ingredients

Zero Added Sugar

Zero Palm Oil

More than 50% Peanut

Pediatric Allergist-developed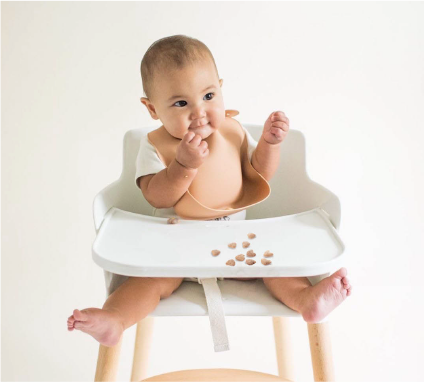 Questions about Introducing
Potential Allergens?
Check out our Early Allergen Introduction Guide!

VIEW GUIDE
Mighty Moms Agree, Puffs Make It Stress Free!
"I have an older child with a peanut allergy, so I've found this product is an easy way to keep my younger kids regularly exposed to peanuts without worrying about my older child getting into them. I wish this was around when my kids were babies!"
Amazon Customer
"Our baby immediately took to eating the MightyMe and never refuses them. What we really love is that the product is backed by science and cutting edge research from the top medical minds in the world and also real life parents."
JW
"Our whole family loves MightyMe peanut puffs! They are our 9-month-old's favorite finger food... and I think my husband and I might keep buying them even after he's grown up since we enjoy them so much too!"
Erin
"We introduced this product to my almost one year old and she loves them! She much prefers these over regular puffs and Cheerios. And the best bonus is it is helping combat food allergies."
Amazon Customer
"It's a great snack and I love that it's something that can help introduce peanuts to my youngest, it's a win win!"
Kaitlyn
"These puffs are IDEAL! Amazing taste, texture (no choking worries) and most of all – helping me to prevent what is a life-altering allergy to have to contend with. I'd highly highly recommend these, not only for parents of babies and any-age children but for you if you like peanuts! They are delish!"
CE
"My 6 mo old has severe eczema so after a negative skin test our doctor encouraged us to introduce peanut ASAP. That was harder than we thought! She wouldn't take thinned peanut butter on a spoon but LOVED these puffs! She's now on her way to eating a full serving. They won't last very long though because our toddler loves them too!"
Katie
"For our new baby, we were thrilled to find a product that made it easy to follow the new guidelines rec'd by our pediatrician – introduce peanuts with first foods (6mons)!"
Lily
"My baby is loving these snacks. I felt it was a safe, easy way to introduce peanuts and provide consistent exposure to them."
Shana
"MightyMe is a wonderful way to incorporate more nuts into your baby's diet. I am a mother of four, and my youngest started on MightyMe this summer when she was six months. I like that there are only a few ingredients, and they are ingredients that I know and can trust. They are also delicious, and my older children love to get into them too!"
Emily