Kid-Friendly Peanut Butter Snack Board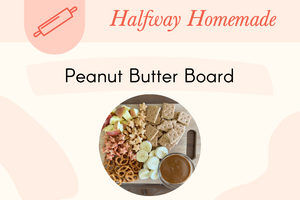 Everyone goes NUTS for a snack board! Peanut butter boards are a deliciously fun idea to keep the littles entertained (and full!) during holiday get togethers. An easy addition to the kids' table, and yummy for adults, too!
The best part? No extra cooking or prep necessary. Grab whatever kid-friendly snacks and fruit you have on hand for holiday cooking, and toss together for a fun and festive board just for the kids!
Ingredients:
1 cup - Peanut butter (we used smooth)
1/2 cup - Greek Yogurt (plain or vanilla)
1/2 cup - Pretzels
1 cup - MightyMe Puffs 
1/2 cup - Fresh bananas 
1/2 cup - Fresh apples
1/2 cup - Graham crackers
Directions:
1. Mix Peanut Butter and Greek Yogurt and add to a small serving dish
2. Chop fresh fruit – we opted for banana and apple, but use whatever you have on hand!
3. Assemble all elements on a cutting board or festive holiday plate
4. Watch the kiddos go NUTS for this yummy snack board!
Looking for more nutty and nutritious Halfway Homemade recipes? Check out our other delicious ideas below.