Halfway Homemade: Nice Cream 3 Ways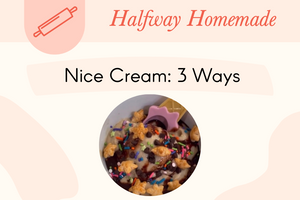 I scream. You scream. We all scream for … NICE CREAM! Beat the heat with an elevated take on a summertime staple. With three options to choose from, your entire family will stay cool with these nutritious treats!
Banana Nice Cream
What You'll Need
Ripe bananas
Peanut butter (for extra allergen exposure)
Ice cream cones (or bowls)
Your favorite toppings (including Mission MightyMe puffs!)
Cut your bananas in half and place on a lined cookie sheet to freeze for 2 hours
Once frozen, place bananas in a food processor until smooth (midway through, scoop a spoonful of peanut butter into the food processor)
Once completely smooth, scoop mixture out into a cone (or cup)
Decorate with puffs and your favorite toppings and enjoy!
Watermelon Sorbet
What You'll Need
Watermelon 
1/4 cup lemon juice (can sub for 100% fruit juice if lemon juice is too sour for your little one)
1/4 cup water
Crumbled Mission MightyMe Puffs
Cut up your watermelon into bite-size cubes
Place cubes into the freezer for 3-4 hours (or until fully frozen)
Once frozen, place cubes into your blender

 

Pour 1/4 cup juice + 1/4 cup water over cubes and blend until smooth

 

Top with puffs and enjoy!
Ice Cream In a Bag
What You'll Need
1 cup half & half
1 T. vanilla extract
1 T. sugar
2 cups ice
1/2 cup rock salt
Toppings (fresh fruit, puffs, sprinkles)
Bags (1 small + 1 larger)
Pour half & half, sugar and vanilla into the smaller bag

 

Seal smaller bag and place in larger bag
Top with rock salt and ice
Seal larger bag and shake for 6-10 minutes
Pour out ice cream mixture, top with your favorite toppings and enjoy!