New Flavor Alert: 5 Reasons to Love Our New Peanut Butter + Fruit Puffs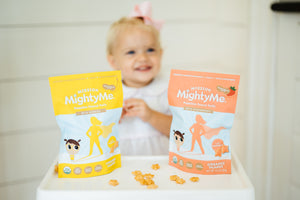 Hi, Mission MightyMe co-founder Catherine Jaxon here! You asked, we listened: we're introducing new flavors that are so berry delicious, your little peanut will go bananas! We're thrilled to add Peanut Butter Strawberry Puffs and Peanut Butter Banana Puffs to our existing lineup of mouth-watering nut butter puffs. These two delicious PB&J-inspired varieties make it even easier to regularly keep peanuts in your little one's diet, as pediatricians recommend. And as parents of three ourselves, we're all about providing peace of mind for other families with ingredients you can actually recognize and understand – so our puffs have no preservatives, no artificial or "natural" flavors, no cane sugar or cane syrup, no palm oil and no saturated fat. 
Check out my top five reasons you'll love our new puffs!
1) Making "Early, Often and Ongoing" Easy – with No Stress + No Mess!
You've probably heard that the American Academy of Pediatrics (AAP) and the USDA now recommend starting peanut foods in infancy to help prevent peanut allergies (based on the LEAP Study, led by our co-founder Dr. Gideon Lack) – but did you know that keeping peanuts in the diet consistently through toddlerhood is also key for prevention? So if you've already introduced peanuts to your tot without a problem, that's amazing (you go, mama!) … just remember it's not one-and-done, and continued consistency and amount matters. Each pouch of MightyMe is packed with the equivalent of 35 peanuts, or 3.5 teaspoons of peanut butter, which matches the research and meets the AAP's recommended amount of protein per week for high-risk infants (a daunting amount to get into tiny tummies otherwise!).
2) Puffs with Purpose, Packed with Plant-Based Protein
These new organic, limited-edition fruity flavors – with more than 50% peanuts and 3x the protein of traditional baby puffs – offer even more delicious options to introduce peanuts early and keep them in children's diets often. Did you know nuts are nutrient-dense superfoods? MightyMe is a science-backed snack that's a smart swap for other distraction snacks, and a baby puff that actually does them good. [Psst…learn more here about why nuts are so good for growing bodies!]
3) Real, Simple, Organic Ingredients 
Our newest offerings are truly unique: they're the only quick-dissolve puffs made with peanut butter and real fruit, with no artificial flavors, no "natural flavors" (what are those anyway?!) and no added sugar. Talk about a winning combo! Plus, our ingredient list is short, simple and all organic: just peanuts, banana, strawberry, rice and sea salt, carefully crafted into a melt-in-your-mouth, plant-based protein snack. 
4) A Smarter Snack Made with Love, Backed by Science
Research has shown that in addition to early introduction, eating peanut foods regularly and consistently is important when it comes to peanut allergy prevention, so our puffs are formulated to age up as a healthy, tasty, go-to snack for babies, big kids, and beyond. The science-backed snacks were developed with our MightyMe co-founder and global food allergy prevention expert Dr. Gideon Lack, whose groundbreaking research changed feeding guidelines around the world to recommend early introduction of peanut and other common food allergens in infancy. There is no mixing, measuring or special prep required, and our puffs are designed for any feeding stage, from starting solids + up.
5) Versatile and Nutritious, with So Many Ways to Serve!
The star-shaped, quick-dissolve Peanut Butter Strawberry Puffs and Peanut Butter Banana Puffs are baby-friendly and made for little hands with developing pincer grasps. As little ones grow, regular peanut consumption does good for tiny tummies. You can soften with water, breastmilk or formula (recommended for 7 months and younger), crumble into purees or eat on-the-go in our convenient resealable pouch. For toddlers, there are endless ways to eat adventurously: in a trail mix, in a lunch box, as cereal with milk, or as a yogurt topping.
These nutritious snacks are exactly what we were looking for when our kids were younger in hopes of preventing another food allergy in our family, and we're so honored to be part of your feeding journeys. We hope our products make it easy to introduce peanuts early and include them in your little one's dies often. Our whole team is appreciative of your support: because of customers like you – with babies and kids who are nuts for our delicious puffs! – we've launched three flavors in 2022 alone. Enjoy, and we can't wait to share the next batch of tasty innovation!
We always love to hear feedback and suggestions – you can reach us anytime at info@missionmightyme.com. If you love our puffs, don't forget to leave us a review to help spread the word, and sign up for the Snack Squad and get exclusive rewards, deals + news. 
Stay Mighty!
-Catherine 
About Catherine: Catherine is a mom of three, and her oldest daughter is allergic to most nuts. As a mom who knows what a burden food allergies can be, Catherine is passionate about helping other parents get proactive about preventing them. Prior to founding Mission MightyMe, Catherine was an award-winning journalist and is still an avid researcher and a journalist at heart.