Peanut Panel Review: Snack Cups!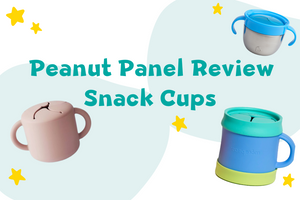 We take snacks VERY seriously…so you know we're extra choosy when it comes to our snack swag! Luckily, we have an entire Peanut Panel happy to take on the challenge to snack whenever they can – especially in the name of product testing.
So, one of our adorable members stepped up to the challenge and put a handful of snack cup options to the highly *official* toddler test. Of the five models we tested, three were mom-approved and received our seal of approval! Read on to learn more.
Morepeas
These are simple, colorful, intuitive to carry (thanks to an easy grip, comfortable handle) and multi-functional. It can steam and serve veggies, microwave 5-minute meals, and store leftovers all in one smart silicone, BPA-free snack holder.  Plus, less spills because the cups easily suction to any surface! In the words of our tester's mom, they're the "creme de la creme of snack cups!". Dishwasher-safe.
Buy the morepeas All-in-One Snack Cup here
Munchkin
This was another quality option that kept snacks contained and fresh! Lightweight, durable, and super easy to take apart for cleaning and reassemble quickly. We loved the size: it's small enough to put into a diaper bag on-the-go or attach to a high chair, but substantial enough for little hands to hold onto without dropping. The soft flaps help with easy food access, and it's dishwasher-safe.
Buy the Munchkin Stainless Steel Snack Catcher with Lid here 
Mushie
Made with super soft silicone and perforated flaps for tiny nimble fingers, it's no surprise this model was a favorite with our mighty mini. The open-air design doesn't retain freshness as well, and we found it was slightly harder to pour snacks into the container. However, we give bonus points here for how well-contained the snacks stayed….even when our toddler tester extraordinnaire was vigorously shaking the cup (we all know how that goes!). Super easy for littles to use, just not as easy to take apart for a thorough cleaning. Hand wash only.
Buy the mushie Silicone Snack Cup here
We also tested the Nuk 2-in-1 Healthy Snacker and Ubbi Tweat No Spill Snack Container but found them difficult to use or too hard to keep clean. Every toddler is different (so these options might work for you!) but our little tester just wanted to play with these products instead of actually eating anything from the snack cups.
Do you have another snack cup brand and model you love? DM us on Instagram at @missionmightyme or email us at info@missionmightyme.com to share your recs.
Your LO's snack cup looks empty - fill it with puffs! Shop now.